On 19 November, off the back of the news that the organic grocery sector has grown 12.1% in the past 12 months, Organic Trade Board (OTB) marketing director Harriet O'Regan gave delegates of organization's annual briefing an overview of the team's marketing activity during 2020.
When the year began, O'Regan says the aim was already to tackle the overwhelm felt by consumers who struggle to find their way through 'complex messaging' around how they, as individuals, can make a difference to the world through their purchasing decisions. She explains that the arrival of the pandemic 'exacerbated' some people's sense of 'impending doom' about the world; with this insight into consumer state of mind, the OTB began working towards a simpler, more integrated Organic September campaign, collaborating in close partnership with the Soil Association.
"We set ourselves a clear brief in terms of the job that we wanted to do. Firstly, it was about working as one industry. We didn't want different campaigns with different looks and feels, we didn't want different logos. We wanted to … speak for organic and be loud and noisy for organic so that people hear us and people think about us. And we absolutely achieved that."
We wanted to do is make consumers realize that actually they just need to make one simple swap
The organizations proceeded with a 'single-minded message' – that choosing organic is 'making a difference for the planet'. "When it comes to action … it is very difficult to be 100% organic … so what we wanted to do is make consumers realize that actually they just need to make one simple swap – change one product to organic, and that was our call to action."
O'Regan says they had a clear view of 'what that looked like as a media strategy and campaign strategy'. "We talked about this loud-speaker, because it was all about making a noise, being loud and proud of organic. We did a lot of work to define a new identity, to create a much more dynamic, vibrant identity for the sector."
Working to develop 'newsworthy content' she explains that PR formed an important part of 'getting the message out'. Using influencers and the power of 'deeper level' thought leadership, they built the conversations up on social media to give people the chance to 'really understand organic'.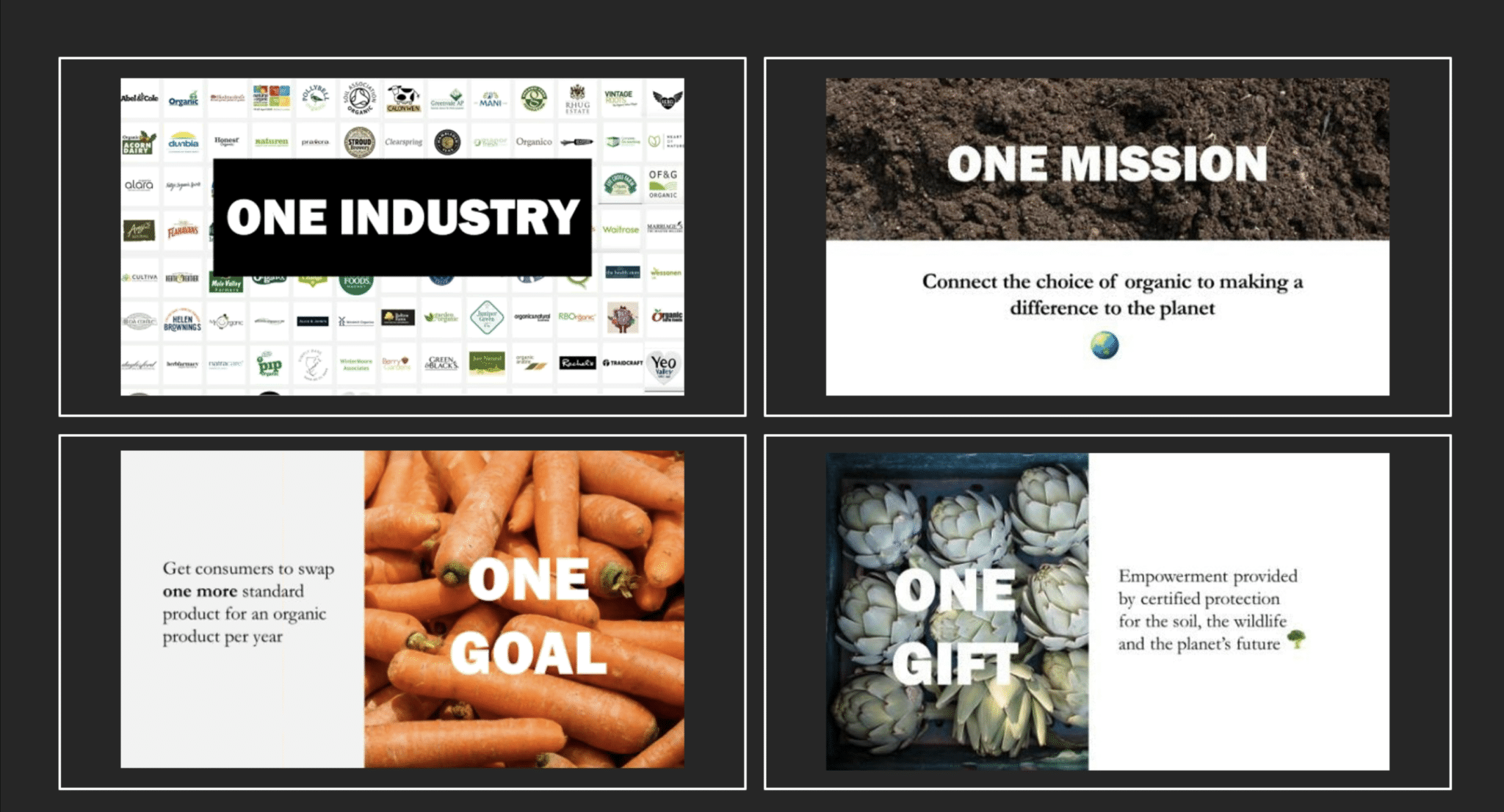 "We were able to build on … the look and feel that the Soil Association have developed over the years, to create some news assets for Organic September." The new bold identity received the OTB 'phenomenal feedback' and enabled the marketing team to reach seven million people with its message. "Even David Attenborough is using [it] around the fact that nature has the answer to this problem; if we trust in nature it will help restore itself," she adds.
In some ways O'Regan says the current health crisis could have signified 'a major stumbling block' for organic. "There were some really important implications. Suddenly some businesses – particularly small businesses – were in really dire straits, whether that was getting products, supply chains falling over, routes to market not being possible, retail outlets being closed." But she says, conversely, many organic businesses 'absolutely struggled to keep up with demand' with online orders 'doubling overnight' in some instances. Acknowledging the 'huge amounts of effort' it took to manage the situation, O'Regan says the OTB became uncomfortable asking for pledges, but says the team was 'humbled and honoured' that so many businesses continued to support the organization and 'to back what the sector can do'.
We found that a third of millennials are more likely to buy organic as a result of the pandemic
The OTB recognized that 'sustainability might move down the agenda' during the crisis, which remained a concern. For a period, retailers were forced to prioritize getting products on shelf and any in-store activity that had been planned to help 'land the message' was no longer possible. "So, we really did find ourselves in a challenging position as a sector but there were also some green shoots, some positive signs, and this gave us a sense we could keep going. In our survey that we used in PR we found that a third of millennials are more likely to buy organic as a result of the pandemic. That's 12 million people in the UK … which is a really important sign. I think that links into the sense of appreciation that we all felt when literally your world becomes your house and the countryside around you. People started to appreciate what we've got and what we need to protect. There were some lovely stories in the news about how nature was restoring itself, which played into this messaging and gave consumers that sense of responsibility."
The OTB is now hoping to expand its marketing team, drawing from expertise within its community of members to help amplify the message further in 2021.
The post How the OTB overcame the 'stumbling blocks' of 2020 appeared first on www.naturalproductsonline.co.uk.